Ms. Marie-Ange Bien-Aime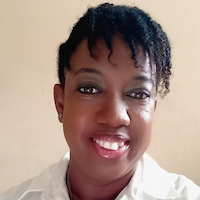 Ms Marie-Ange Bien-Aime, RN, is the Project Director for the Peer Engagement for Assured Retention and Support (PEERS) project of the TIDE Haiti Program.
She is a registered nurse who studied at the National School of Nursing in Port-au-Prince. She has worked for over a decade in HIV/TB/STI programs in Haiti in the following roles: HIV nurse responsible for the mobile clinic and community activities, site manager, nurse supervisor for a network of institutions, HIV / TB / STI project officer, technical lead, and provided nursing care to patients.
She has worked in most departments across Haiti: North, North-West, North-East, Artibonite, West, South, South-East, Nippes, and Grand-Anse.
She has benefited from several training courses on: management of microprojects, andragogy, training of trainers, supply chain management, forecasting, and supervision.
Her professional goal is to improve the quality of services for patients which will allow them to lead better and healthier lives.