Ms. Jenevieve Opoku, MPH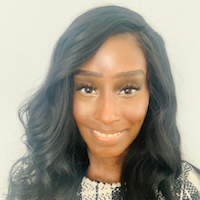 Ms. Jenevieve Opoku, MPH, is a Data Scientist for the Center for Global Health Practice and Impact at Georgetown University Medical Center.
Ms. Opoku has over 10 years of experience in behavioral research and public health practice, with expertise in epidemiology, data analysis and data visualization. During her career, she has been involved in improving HIV disease health outcomes through disease surveillance, program evaluation, behavioral research and geospatial analysis. Ms. Opoku's past work has included implementing and monitoring national research programs, evaluating HIV-related behaviors among high-risk populations, examining linkages, retention to HIV care and viral suppression and data dissemination. As Data Scientist, Ms. Opoku will provide technical support to both domestic and international surveillance programs through data integration activities, strategic planning, statistical modeling and improve data use through creating routine reports and data visualization strategies.
Ms. Opoku holds an MPH in Epidemiology and Social & Behavioral Sciences from Boston University and a Bachelor of Art in Psychology from the University of Southern California.