Ms. Daphné Compere-Louis, MHA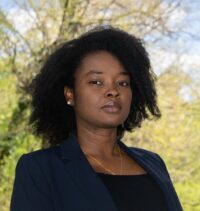 Ms. Daphné Compere-Louis, MHA, is a Program Manager for the Center for Global Health Practice and Impact at Georgetown University.
Ms. Compere-Louis has a combined nine years of experience working as a program specialist and clinical research coordinator in federal and academic institutions.  She gained ample experience in managing and supporting scientific research at the Agency for Healthcare Research and Quality (AHRQ). She managed multiple grant assignments and ensured that grant applications complied with NIH guidelines.  At the University of Utah, she managed multiple clinical research projects as part of a multidisciplinary research team in Utah, Idaho, and London, UK. She has a profound interest in improving the delivery of healthcare services to populations with limited resources.
Ms. Compere-Louis holds a Master's in Healthcare Administration from the University of Maryland University College, a certificate in Project Management Fundamentals from the University of Utah, and a Bachelor's degree in Health System Management from the University of Baltimore.