Dr. Yannick Hervé Ngouankeu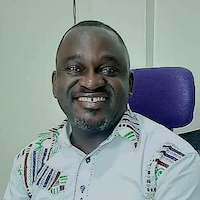 Dr. Yannick Herve Ngouankeu is the Integrated Delivery and Site Improvement Lead in the East Region for the TIDE Cameroon program.  In this role, Dr. Ngouankeu provides oversight for the Region's clinical mentorship team and is responsible for the implementation of TIDE's technical strategy.

Dr. Ngouankeu is an experienced clinician with 13 years' experience in the field of internal medicine, general medicine, and public health, with direct involvement in the clinical management of HIV/AIDS.  Dr. Ngouankeu earned his Bachelor of Medicine, Bachelor of Surgery Doctorate Degree from the University of Calabar, Nigeria.  He continued to work in Nigeria for seven years as a medical officer, then senior medical officer, providing clinical care to patients with infectious and non-infectious diseases, including the management of HIV/AIDS treatment in one of the high-volume HIV Centers in Northeastern Nigeria with over 7,000 patients. 
Upon returning to Cameroon, Dr. Ngouankeu worked as an HIV site coordinator in Douala, where he introduced adult HIV/AIDS services and scaled PMTCT services in a missionary hospital, before emerging as the regional coordinator for the DELTA project of Elizabeth Glaser Pediatric AIDS Foundation, where he trained over 60 healthcare workers from 10 facilities in global management of pediatric HIV/AIDS in the Littoral region of Cameroon. Alongside this role, he managed the Foundation's program in the Littoral region, including point of care for early infant diagnosis, as well as a gender-based violence project. Under his supervision, over 250 healthcare workers were trained in Global management of pediatric HIV care, early infant diagnosis and gender-based violence.

In his most recent position at the Elizabeth Glaser Pediatric AIDS Foundation, Dr. Ngouankeu served as HIV Clinical Services Officer Site Lead in a high-volume facility with over 5,000 HIV patients for the Atteindre 95 project.  Here, he managed the integrated service delivery in all program areas of HIV/AIDS, with direct clinical management of HIV advanced disease, and extended the program to communities within the Littoral region. Dr. Ngouankeu has pursued many online courses in project management, HIV management with the University of Washington DC, and is a member of the South African AIDS Society.