Dr. Nancy Rachel Labbe Coq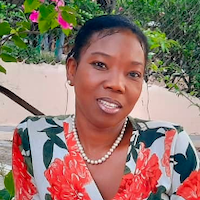 Dr. Nancy Rachel Labbe Coq, MD, MSc is the Country Program Director of the Center for Global Health Practice and Impact's Haiti country team.
She is a physician with a diploma in Pediatrics, Public Health and a Master in Health Management from University of Montreal. Her dream has always been to serve the Haitian population and as such she has worked at all level in the health system. She started her journey working in private practice, public health center and hospitals providing services to vulnerable population. Shortly after, she joined the Ministry of Health in the Nutrition department where she assists in elaborating policies and guidelines. Later, she continues her journey at the Global Fund to Fight HIV/AIDS, Tuberculosis and Malaria in Haiti. There, she worked with the facilities, the community and other Implementing partners designing and implementing project; ensuring the technical quality of scale up projects. Her involvement in the Public Health sector continues when she joins University of Washington as a Clinical Assistant Professor with the Department of Global Health at the University of Washington and the Country Director of the International Training and Education Center for Heath (I-TECH). She served for around a decade designing, implementing different projects in collaboration with the Ministry of Health. In addition, she worked with other NGOs such as JHPIEGO an affiliate of John Hopkins University, Civil Society organization and WHO/PAHO in different domains/ areas: Capacity Building; Strategic Planning; Infectious diseases; Global health Security….
She is a Professor at her alma mater, State University of Haiti, where she received her medical degree and currently teaches a course on Health Determinant and Social Inequities. Her fields of interest are Leadership; Health Systems Strengthening; Health Information Systems; Maternal, Newborn and Child Health, and Global Health Security.