Dr. Martine Etienne-Mesubi, DrPH, MPH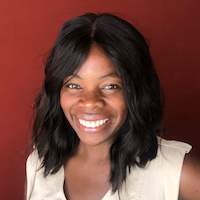 Dr. Martine Etienne-Mesubi, DrPH, MPH, is a Clinical Research Assistant Professor in the Division of Infectious Disease, Department of Medicine, at the Georgetown University Medical Center and the Health Services Outcomes Improvement Lead at the Center for Global Health Practice and Impact.
For over a decade she has worked and been committed to improving both access and quality of health services in sub-Saharan Africa and the Caribbean.  Dr. Etienne-Mesubi's interests and work have included developing innovative prevention, care and treatment strategies that could support access to health care in the most rural, underserved and marginalized areas. As part of this work, she has developed expertise in quality service delivery, quality improvement, and capacity building.
In her role at the Center, she supports the design of interventions and models for health care improvement including continuous quality improvement and data use to support population health outcomes of Center programs. She ensures that care systems, processes and standards for integrated delivery, communities of practice, collaborative learning and improvement initiatives are institutionalized throughout all implemented programs reflecting local and international best practice. Dr. Etienne-Mesubi conducts implementation science research initiatives in line with technical area competences earlier identified and actively endeavors to publish works that further learning and professional development for self and team members.
Dr. Etienne-Mesubi obtained her MPH and DrPH from the Morgan State University School of Community Health and Policy.