Dr. Marinette Christel Ngo Nemb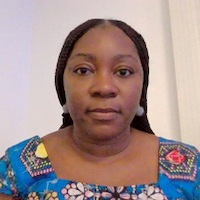 Dr. Marinette Christel Ngo Nemb is the Integrated Service Delivery Improvement Team Lead in the Center Region for the TIDE Cameroon program. She is a highly-motivated public health specialist, committed to improving the quality of programs and services in health facilities.
As a trained physician, Dr. Ngo Nemb has more than 10 years' experience in clinical management of patients, and has worked across all levels of the health system in Cameroon. After earning her medical degree and Master of Public Health from the University of Yaounde I, she joined Cameroon's National AIDS Control Committee (NACC) to pursue her passion for public health and HIV, where she worked for more than six years as the Head of Service of HIV Care and Treatment.
In this position, she was responsible for designing and reviewing national and regional strategic and operational plans, training health care providers on HIV management and quality improvement, and writing funding applications to Global Fund. Dr. Ngo Nemb was recognized by the Global Fund for her commitment to achieving HIV epidemic control and her leadership in executing project workplans, critically analyzing data, improving supply chain management, elaborating innovative approaches, and providing oversight for quality program implementation.