Dr. Julienne Stéphanie Mesumbe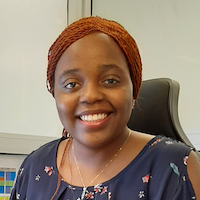 Dr. Julienne Stéphanie Mesumbe is the Strategic Information, Continuous Quality Improvement, and Health Informatics Team Lead for the TIDE Cameroon program.  In this position, she oversees activities to improve program performance and equips employees and facility staff with the tools to manage and sustain continuous quality improvement methodologies.

Prior to joining Georgetown University, Dr. Mesumbe worked at the Elizabeth Glaser Pediatric AIDS Foundation as the Strategic Information and Evaluation Manager and most recently as the Head the Program Optimization and Service Quality Improvement Unit for the HIV-Free and Atteindre95 projects.  Focused on the Center and Littoral regions of Cameroon, Dr. Mesumbe was responsible for producing strategic documents for quality improvement, and served as a resource for all staff at the site, district, and regional levels on quality management and performance improvement techniques. 
She has also worked at International Medical Corps, where she led monitoring and evaluation for a project on integrated health, nutrition care, and protection assistance for Central African Republic refugees in three regions of Cameroon. Before that, she worked as a Program Officer at M.A.SANTE, a national NGO, where she led monitoring and evaluation for the project "Sustainable Cholera Surveillance for Cameroon", and later served as principal investigator for the project "SMS4Care: Community-based surveillance of morbidities and demographic indicators using text message on ODK Collect".

Dr. Mesumbe obtained her Masters in Epidemiology and Public Health in the University of Dschang, Cameroon and PhD in Project Management from The National Valley University, USA.