Dr. Jean Bosco Elat Nfetam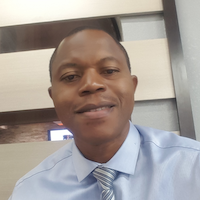 Dr. Jean Bosco Elat is the Country Program Director of the Center for Global Health Practice and Impact's Cameroon country team. In his position, he leads the implementation of TIDE Program in Cameroon (CENTER and EAST Regions), funded by the U.S President's Emergency Plan for AIDS Relief (PEPFAR) through U.S Centers for Disease Control and Prevention (CDC).
Dr. Elat is a seasoned public health specialist with extensive experience in managing global health projects on a national scale in resource-limited settings.  Over the last 14 years, he has worked to implement and strengthen HIV/AIDS programming and health systems in Cameroon.  Most recently, he served for 11 years as Permanent Secretary of the National AIDS Control Committee (NACC).  In this critical role, he led multisectoral collaboration in the fight against HIV/AIDS at the national level, including leading the development, implementation, and monitoring of Cameroon National Strategic Plans for HIV/AIDS and STDs.  In addition, Dr. Elat provided leadership in the design and implementation of many innovative HIV-related strategies and coordinated cooperation with various ministries, national stakeholders, and bilateral and multilateral organizations to scale up these activities.  
Prior to his role as Permanent Secretary, Dr. Elat was the Acting Technical Secretary of Cameroon's Country Coordinating Mechanism and the focal point responsible for Round 3 and Round 5 Global Fund grants.  Dr. Elat obtained both his Doctorate in Medicine and Master of Public Health from the University of Yaoundé, Cameroon.