Dr. Eninwi Muna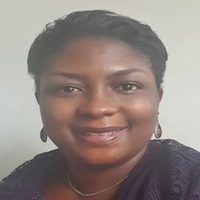 Dr. Eninwi Muna is the Integrated Service Delivery Improvement Specialist and Prevention of Mother to Child Transmission (PMTCT) Lead for the TIDE Cameroon program. With five years of experience implementing HIV programs in Cameroon, Dr. Muna is driven by the need to identify health system strengthening strategies to overcome persistent barriers to epidemic control. Following her passion for PMTCT, she has contributed to the development of PMTCT monitoring tools and systems for improvement, as well as improving clinical outcomes of HIV exposed infants.
Dr. Muna has worked as a physician in Cameroon for over 10 years.  In recent years, she has worked in PEPFAR-supported programs focused on both HIV/AIDS and maternal and reproductive health as a clinical mentor and quality improvement specialist.  In these roles, she was responsible for improving the quality of care and service delivery for people living with HIV and tuberculosis.
Dr. Muna holds an MBBS from the University of Yaounde 1, Cameroon and a Masters of Public Health from the University of Melbourne, Australia.