Dr. Babatunji Oni, MD (MBBS), MBA, MSc-PH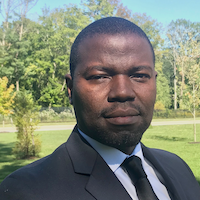 Dr. Babatunji Oni, MD (MBBS), MBA, MSc-PH is the Senior Program Director at the Center for Global Health Practice and Impact at Georgetown University.
He is a physician with training in business administration, public health, and project management committed to the cause of expanding global health equity and improving the quality of clinical care and outcomes. His involvement in global health and international development began by delivering free healthcare services to underserved populations in rural communities across Africa. Since then, he has worked across all levels of the health system in multiple countries in Africa and the Caribbean to design and implement projects in consultation with international agencies, formulating national policies with local Ministry of Health officials, participating in clinical research, training, and education, working with hospital management to integrate new healthcare interventions, and working side by side health service providers to improve patient care. His passion is to use clinical and management science buoyed by modern technology to unlock the potential for every country in the world to achieve parity and equity in health outcomes for their citizens, and to harness and deploy the opportunities unlocked when effective clinical care intersects with sound business practices and a keen awareness of the public health needs of the local population.
Dr. Oni received his medical degree from the University of Ibadan, his Master of Business Administration from the University of Maryland Smith School of Business, and his Master of Science in Public Health from the London School of Hygiene and Tropical Medicine.