Dr. Ayodotun Olutola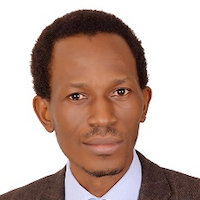 Dr. Ayodotun Olutola MBBS, FMCP, MBA is an Assistant Professor on the Research Track at Department of Medicine, Division of Infectious Diseases at Georgetown University Medical Center. At the Center for Global Health Practice and Impact, he serves as the Resident Co-Director for West and Central Africa where he is tasked with developing, supporting and expanding the center's programs implemented in the region.
He has more than 20 years' experience in clinical pediatrics, medical research, public health implementation and program leadership.  He has invested considerable efforts in the control of infectious diseases particularly HIV and Tuberculosis and Malaria at population levels.  He has been Principal Investigator on multiple grants in Nigeria from the United States Center for Disease Control and Prevention, United States Agency for International Development and other funding agencies. Through these awards, he has led large treatment programs for HIV and TB in Nigeria, care for Orphans and Vulnerable Children (OVC) and improved local understanding of adolescent health practices at the Center for Clinical Care and Clinical Research (CCCRN). He served as a Principal Investigator on a CDC award to building capacity of in-service health work force for providing quality comprehensive HIV care and treatment services. This project devised and institutionalized in service training programs in regional treatment facilities as hubs for infectious disease trainings. On a separate award, he led the development of framework for Master's Program with HIV Management track and a four-week certificate course in HIV case management, both of which were pioneer programs in Nigeria. He has contributed to development of several local guidelines, training curricula and management protocols for infectious diseases in Nigeria and has published widely in local and international journals.
Dr. Olutola graduated from the University of Ilorin with MBBS in 1998, received postgraduate medical training and awarded a Fellowship in Pediatrics by the National Postgraduate Medical College (NPMCN) in 2009. He received a Master's degree in Business Administration from the University of Ilorin in 2013. He has undergone professional trainings at the Harvard Business School, Harvard School of Public Health, and West African Postgraduate Medical College.