Dr. Arnold Mafukidze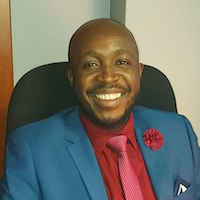 Dr. Arnold Mafukidze, MD, MSc, is the Technical Director for Strategic Information, Data Use and National TB Support for the CGHPI Eswatini team.
He obtained his primary medical qualification from the University of Zimbabwe in 2006, graduating with 'honors'. After being awarded a Beit-Chevening Scholarship he advanced his studies in infectious disease and immunology at the University of Leeds in the United Kingdom, being admitted into the Master of Science program with 'distinction' in 2011.
He started to work for the Ministry of Health & Child Welfare in August 2006, as a Resident Medical Officer. In September 2007 he joined the Biomedical Research & Training Institute as a Research Doctor on a Welcome Foundation funded project looking into morbidity among long-term survivors of MTCT in Zimbabwe. In January 2008, he joined Partners in Health in Lesotho as a medical doctor under the flagship de-institutionalized drug-resistant TB treatment program where he provided care to over 500 patients with drug-resistant TB and HIV across the country. Arnold was also a key trainer for the expansion of this community-based model of DRTB care across the country and the region, training clinical teams from Zimbabwe, Ethiopia, Tanzania, Swaziland and Zambia.
In September 2011, he joined Médecins Sans Frontieres (MSF) in Swaziland as an HIV/TB Medical Referent, providing clinical care to HIV, TB and DRTB patients across the southern most region of the country. He then joined the National HIV Program as a National TB/HIV Advisor, leading the structured implementation of the TB/HIV collaborative activities, with a focus on TB preventive therapy scale-up. In December 2014, he joined University Research Company (URC) as a DRTB Clinical Systems Improvement Advisor under the USAID funded ASSIST  Project, working with the National TB Control Program and the National TB Hospital to strengthen systems for patient care and translate policy guidelines into favorable patient outcomes. Arnold then transitioned into a new role in URC as an Associate Technical Director under the CDC funded SNAP/Lubombo Project, a position he held between July 2015 and December 2016.
In December 2016, he joined ICAP at Columbia University in Swaziland to lead the implementation of 3 CDC-funded implementation study projects (Birth Testing Pilot; TB/MNCH Integration Pilot; B+ Patient Feedback Survey) and an NIH-funded discrete choice experiment on TB preventive therapy uptake among children and adolescents (PROTECT Study). Under his leadership, lesssons from these programs have been integrated into national standard for HIV and TB care, including the adoption of Birth testing for HIV exposed infants in the Kingdom of Eswatini as a standard of care. In January 2020, Arnold rejoined the URC CDC Lubombo Project as a Technical Director for Strategic Information, Research & Learning, a position he held until the end of the project in September 2020.
Arnold is an acclaimed expert in TB/HIV clinical and program design, delivery and monitoring with an interest in drug-resistant TB and drug-resistant HIV. He currently co-chairs the National HIVDR Expert Committee in Eswatini and is an international consultant on both TB/HIV and DRTB programs.
Dr. Mafukidze is a reader in public health and has over 15 publications in the areas of HIV and TB. He is a key member of guideline development committees in Swaziland for both HIV and TB services.