Ms. Nonjabuliso Khumalo, MS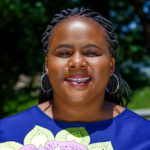 Ms. Nonjabuliso Khumalo, MS, known as Njabu, is the Chief Operating Officer at the Georgetown University Center for Global Health Practice and Impact in Eswatini, and is responsible for ensuring effective financial, operations and administrative support to the country programs.   
Previously, for about 10 years, Njabu was the Director of Finance and Administration for Pact Eswatini where she led the Finance, Operations, Grants Management Unit and Human Resources. She has been involved in capacity development for local Civil Society organizations and graduation of local CSOs to Primes. She has gained vast experience in working with USAID, Global Fund, CDC and EU. She has been providing continuous training, coaching and mentoring for Partners staff as facilitation to graduation. Prior to Pact, Njabu worked at World Vision mainly on the Finance and Grants management sectors which involved working with grassroots groups based in communities and community cadres.
Njabu has studied in the University of Stellenbosch Business School in South Africa and she obtained a Masters' Degree in Development Finance. She also attained her Bachelors Degree in Commerce (with a major in Accounting) from the University of Eswatini.