Ms. Kristen van Houten, MBA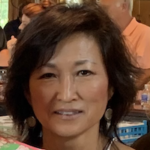 Ms. Kristen van Houten, MBA, is Finance Manager at the Center for Global Health Practice and Impact at Georgetown University managing seven projects in Cameroon, Haiti, Eswatini, Tanzania, and Nigeria with an annual budget of $40 million.
With more than 20 years' experience in international capacity building and financial management of large multi-year projects, Ms. van Houten ensures that senior leaders and donors are informed of any risks on multiyear multimillion dollar projects that may impede completing projects according to plan and forecast. She has worked on large biomedical architecture project implementation in the US and health-related projects based in sub-Saharan African countries with budgets of $6 million to $300 million working with start-up, non-profit, and international organizations.
Ms. van Houten earned her MBA from the Thunderbird School of Global Management/Arizona State University and a Bachelor of Arts degree in Economics/International Area Studies from University of California, Los Angeles.