Ms. Ann Marie Stringer, MsGH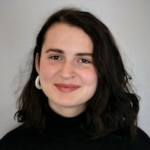 Ms. Ann Marie Stringer is a Data Integration Specialist for the Center for Global Health Practice and Impact at Georgetown University Medical Center.
Ms. Stringer first began working with the Georgetown Office of Senior Vice President of Research (OSVPR) team while pursuing her Masters in August 2018. There she worked with the Centers for Disease Control (CDC) funded PS18-1805 Enhancing National HIV Surveillance System project, where she facilitated the technical onboarding of 25 public health jurisdictions along four successful iterations of large scale inter-jurisdictional HIV data sharing using Georgetown's secure ATra™ Black Box system. For her thesis, Ms. Stringer worked with the College of the Southern Border (El Colegio de la Frontera Sur) in Chiapas, Mexico on a data integration project to develop predictive models for Dengue fever along the Guatemalan border states. Upon returning to Georgetown, Ms. Stringer joined the OSVPR team full time, providing technical assistance to US public health jurisdictions as a data integration specialist. She will continue to act in this role at the Center, and is eager to expand her experience to both global and domestic projects. 
Ms. Stringer holds a Master of Science in Global Health from Georgetown University in 2020, and a Bachelor of Science in Biomedical Engineering from the Georgia Institute of Technology in 2018.