Ms. Amanda Woodworth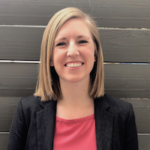 Ms. Amanda Woodworth is the manager of program operations for the Center for Global Health Practice and Impact at Georgetown University Medical Center.
Ms. Woodworth graduated in May 2017 from the George Washington University where she studied archaeology and English. Her interests include environmental advocacy, most recently, working with the Rock Creek Conservancy and the National Council for Science and the Environment.
She is excited about the opportunity to learn about, and help make progressive strives in, global health.