Local Innovation Scaled through Enterprise Networks (LISTEN)
Background:
Significant progress has been made in sub-Saharan Africa to scale-up HIV testing and provision of antiretroviral therapy. However, HIV remains high in vulnerable populations such as Adolescent Girls and Young Women (AGYW) and key populations, and the youth bulge in many of the countries threatens gains made. This is further compounded by persistent challenges in reaching the most marginalized populations with both prevention and treatment services.
Controlling the spread of HIV requires appropriate demand for and effective delivery of a package of services that meet the needs of vulnerable populations and reflects an understanding of the many micro-epidemics that exist, the drivers of each of those epidemics, and the respective interventions most likely to have the greatest impact. Communities are an under-exploited resource that can help to ensure that services are relevant to, and reach, the people who need them most.
Despite the gains that could be realized by engaging communities, systematic processes to formally and sustainably link locally developed solutions and innovations at the community level to policymakers (vertical linkages), and with other similar communities (horizontal linkages) are often nonexistent, thereby squandering opportunity, but also discouraging innovation by limiting the potential for good ideas to be disseminated for widespread impact. Similarly, processes to systematically provide communities with access to relevant data are also lacking, even though this could help to identify gaps and stimulate innovative solutions, and prove the feasibility and effectiveness of proposed solutions.
Purpose:
The Local Innovations Scaled through Enterprise Networks (LISTEN) process integrates the voice of the community in the design and testing of solutions to reach at-risk populations that are currently not being reached with conventional strategies, expanding engagement at the community level, and supporting linkages to the formal health system and to decision-makers throughout the system up to sub-national and national political leaders.
The LISTEN process employs human-centered design (HCD) methods to engage members of high-risk, low-service engagement target populations, and the people and places in their lives, to identify alternative ways to successfully engage them with HIV prevention services.
The primary pillars of LISTEN are:
Communities of practice that are linked horizontally and vertically
Data and metrics of impact that are relevant to each community of practice
Human-centered design that acts as the glue for the process, (figure 1)
What is a Community of Practice (CP) within the context of LISTEN?
LISTEN conceptualizes a community of practice as a group of people organized around a key purpose (e.g., health, economic empowerment, public safety, etc.) and a delivery point (any interface between the supply and demand of those services). In the LISTEN model, trained facilitators work with identified groups and organizations to adopt and employ a Community of Practice (CP) process for continuous improvement. LISTEN strengthens and empowers already established and new CP to use HCD and data for greater impact on the HIV epidemic, and enables the development of a network of CPs to fill key gaps in reaching and providing services to high-risk, low-service engagement target populations.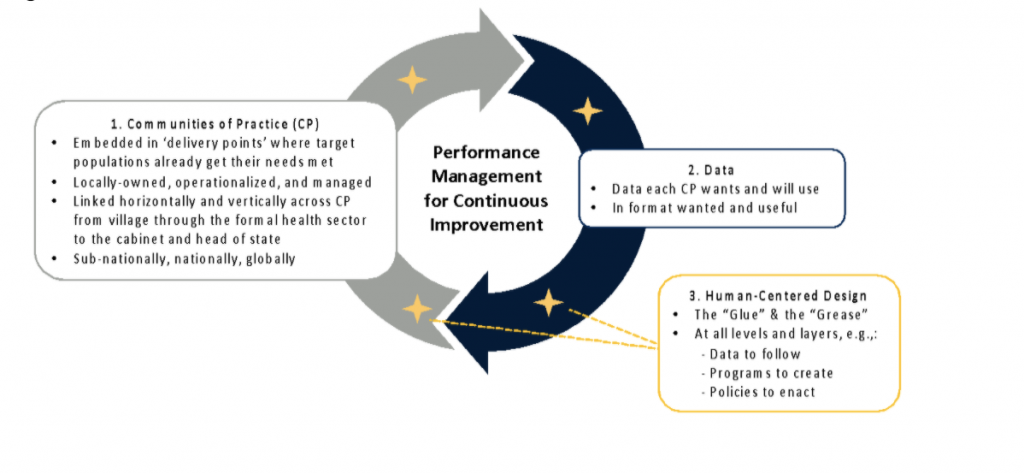 Goals:
Establish LISTEN as a platform for sustainable community engagement – the process will engage target populations and their local communities, leveraging local voices, knowledge and innovation for contextually relevant solutions, and embedding continuous improvement processes for sustainability. The process will facilitate community-responsive policymaking for an enhanced care continuum.
Apply LISTEN to systematize local reach and innovation for HIV prevention – the LISTEN process will allow for engagement of marginalized communities that have previously not had an opportunity to provide their inputs into the design of prevention and treatment strategies, and will integrate the voice of the community in the design and testing of solutions to link those who are positive to ART services, improve adherence, and develop preventive approaches (or expand use of existing ones such as Voluntary Medical Male Circumcision (VMMC) for those who are negative.
Utilize LISTEN as a platform to introduce new technologies for HIV prevention – communities of practice will be used as platforms to facilitate the process of developing community-led strategies to increase access to and utilization of new technologies for prevention.
Key Personnel and Beneficiaries:
Kenya National Aids Control Council (NACC)
Eswatini Ministry of Health,
Georgetown University
Final Mile
Sirolli Institute
Desireline
Resources:
"Supporting communities of practice – a journey to effective problem solving"