Dr. Mo Diop, PhD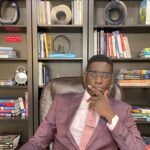 Dr. Diop is the Director of Finance of the Center for Global Health Practice and Impact at Georgetown University. Dr. Diop is responsible for the overall financial management of the institutional and research portfolio of CGHPI, closely analyzing, and reporting on the use of funds to ensure the achievement of programmatic goals, financial fidelity, and long-term sustainability.
Dr. Diop is an expert in international development with experience in program finance, compliance, audit, analytics, risk, and process improvement. Dr. Diop brings over 15 years of experience leading operations and program finance for global organizations, managing multimillion dollar global health, education, and economic development projects across four continents.
Dr. Diop holds a Master's Degree in Finance from Boston University and a Doctorate in Business Administration with a concentration in International Studies from Wilmington University. Dr. Diop's doctoral research publication focused on attaining sustainable economic development through education, with a case study on the effectiveness of Technical and Vocational Education and Training in bridging skills gap.