Dr. Christian John Hunter, MD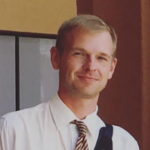 Dr. Christian John Hunter, MD, is the Director for Clinical Care, Education, and Research at the Center for Global Health Practice and Impact, and Professor of Medicine in the Department of Medicine at Georgetown University Medical Center.
Professor Hunter was most recently an Associate Professor and Head of the Departments of Physiology and Internal Medicine at the University of Namibia's School of Medicine. Starting in 2012, he worked full-time in Namibia as part of the team establishing the first School of Medicine in the country. He oversaw the curriculum development, implementation, and assessment for both the Departments of Physiology and Internal Medicine. During these years he was course director for all Internal Medicine and Physiology courses, as well as organising and supervising the clinical rotations for students. Over 300 medical graduates are now in various stages of training and services in Namibia.
Earlier, Professor Hunter did postdoctoral research work as a Clinical Research Training Fellow at the National Institutes of Health, where he studied the biology of nitric oxide and associated metabolites. Here he underwent training in human subjects protection and human studies ethics and practice.
In addition to leading several education, research, and clinical activities at the University of Namibia's School of Medicine, Professor Hunter developed coursework and assessment materials for inter-professional coursework between the Schools of Pharmacy and Medicine. He served on many University bodies, including the Health Research Ethics Committee.
Current research activities include funded projects around Human Physiology education, student safety in high risk environments, novel technology for assessment of malnutrition in children and Snakebite injury. Educational interests include health care worker education in resource limited areas and the application of appropriate technology to alleviate human resource challenges.
Professor Hunter received his medical degree from Loma Linda University School of Medicine and post graduate training at the Brigham and Women's hospital (Internal Medicine) and Johns Hopkins Hospital (Cardiovascular medicine).