Professor Auntré D. Hamp, MEd, MPH, LPC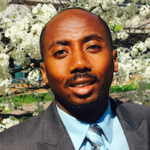 Auntré D. Hamp, MEd, MPH, LPC is a Research Assistant Professor in the Division of Infectious Disease, School of Medicine, at the Georgetown University Medical Center and the Performance Measurement Portfolio Lead at the Center for Global Health Practice and Impact.
He has more than 15 years of experience in the mental health and public health arenas, with expertise in epidemiology, data science, social science research and mental health counseling. During his career he has been involved in improving public health outcomes through disease surveillance, program evaluation and the implementation of technological solutions to advance program achievement. Mr. Hamp's interests and work have included implementing data quality and data integration programs that support domestic health surveillance and the improvement of health outcomes particularly with people living with HIV. As a part of his professional journey, he has expanded his scope to apply data science to global health issues, focusing on improving the use of data to inform and improve project outcomes. As a part of this work, he has developed expertise in the provision of technical assistance and capacity building aimed at building robust data science infrastructures.
In his role at the Center, he supports the development and execution of its impact measurement strategy, by serving as the data-driven voice for program teams, and ensuring that the impact measurement work result in "demonstrable program impact, improved effectiveness, efficiency, and public health practice" in the countries where the Center is active. Mr. Hamp conducts data science research initiatives while actively facilitating collaborations throughout the University system. He is actively involved in supporting staff and team members in their development of data science implementation.
Mr. Hamp holds an MEd in Counselor Education from Arizona State University, and an MPH from Georgia State University. Additionally, Mr. Hamp is a licensed professional counselor (LPC) in the District of Columbia.