Assuring Public Health International & Domestic Security (APHIDS)
Background:
Following the completion of the WHO led Joint External Evaluation (JEE) in Nigeria in 2017, the Nigeria Centre for Disease Control (NCDC) engaged in strategic activities and interventions over a 5-year period to improve the scoring across all accessed indicators. A framework that will provide proper linkage and coordination between technical and programmatic activities to outcomes internally and externally for the NCDC was proposed in 2018 by the United State Centers for Disease Control and Prevention (US CDC).
Georgetown University Center for Global Health Practice and Impact (GU-CGHPI) in conjunction with Savannah Health System Innovation Ltd (SHSIL), with technical support from the US CDC and user interaction/feedback from the NCDC developed and deployed an Enterprise-wide project portfolios and programmes management platform named APHIDS app (Assuring Public health International and Domestic Security application) to support NCDC achieved it mandate to lead the preparedness, detection and response to infectious disease outbreaks and public health emergencies by effectively and efficiently managing resources, risk, interdependencies in a timely manner.
APHIDS is a multipurpose electronic system that uses project management principles to support the planning, tracking and execution of all activities and projects towards achieving the International Health Regulations (IHR) in Nigeria.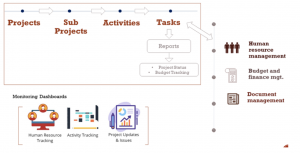 Goal:
To implement a framework with set of tools to enable the NCDC and other relevant agencies to organize and monitor health security-wide project portfolios and programmes necessary to achieve the IHR goal.
Objectives:
The APHIDS platform provides a one stop shop of functional project management components to support coordination, monitoring, supervision, and execution of day-to-day activities at the NCDC. This includes the institutionalization of project management with the use of technology (APHIDS) at all levels.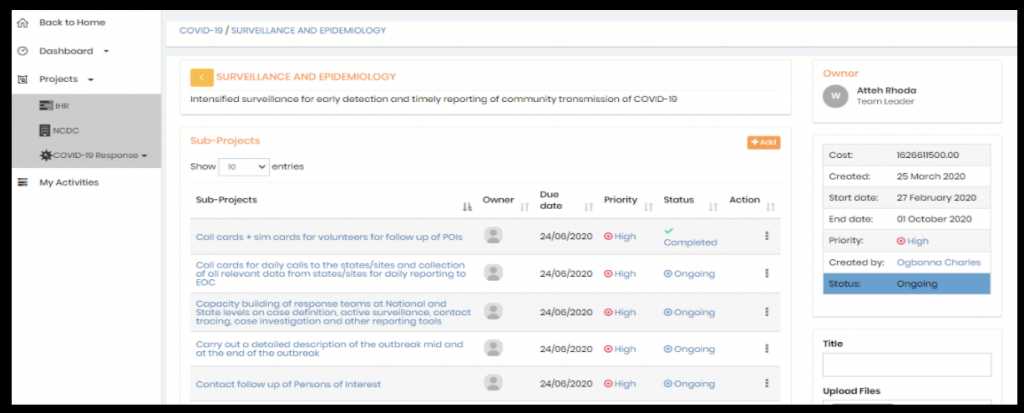 1. A functional Program management system component
Onboard and monitor programs, projects, activities and task to completion


APHIDS platform has 3 programs created into the system (1) IHR (2) NCDC departmental projects and (3) Outbreak management
The Outbreak management program is actively in use for the ongoing COVID 19 pandemics.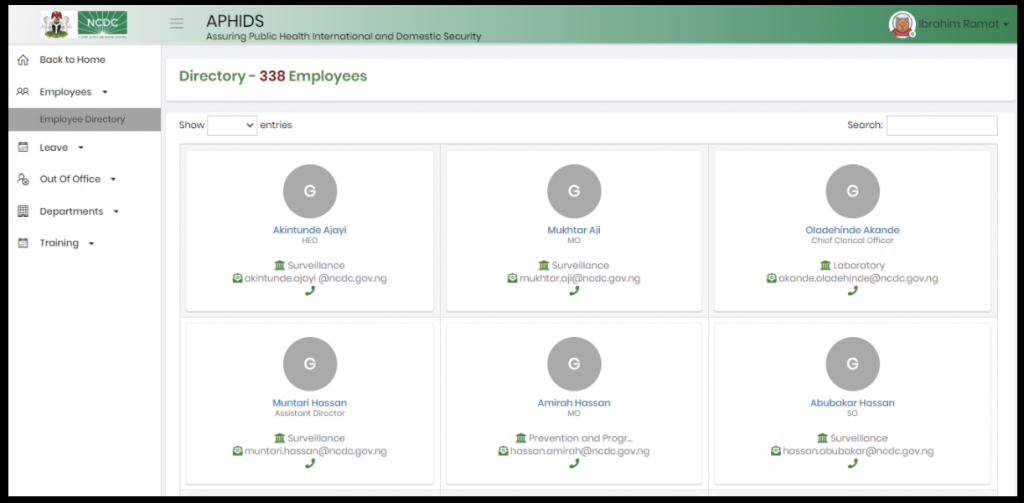 2. A functional Human Resource management component
Leave management module with functions for applying, approving and reviewing available leave days.
Time and attendance module to track and monitor (1) Early clock in and (2) Out of office
Active Employee directory completed
Trainings
Organogram
Staff performance & appraisal

3. A functional Document management component
Uploads
Downloads
Public vs. private documents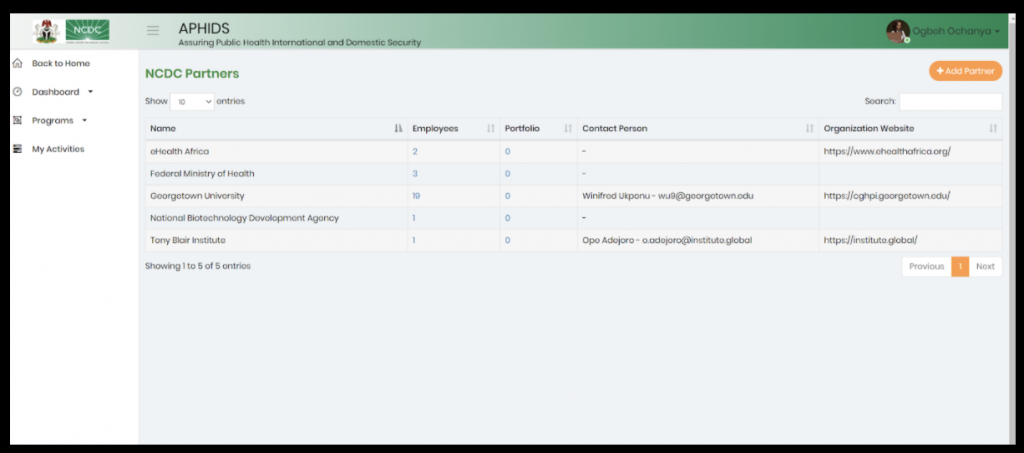 4. A functional Partner management component
Partner registration
Project activity definition
5. Functional Dashboards for monitoring and supervision across all activities
Activity trackers
Project progress status

6. A functional Inventory management component
Expected deliverables:
The provision of technical assistance and support for the NCDC to implement programs focusing on protecting and improving health by addressing identified gaps. In addition to implementation of benchmark action plans to address these critical gaps and constraints in the implementation of programs and business processes management by utilizing best global practices enhanced by technology solutions (APHIDS) to improve the development of core capacities for GHSA implementation.
Schematics/dashboards:
Key Personnel and beneficiaries/End users

The Director-General, NCDC
Heads of Departments at the NCDC
Division Heads of the NCDC
Unit Heads of the NCDC
Staff of the NCDC
Partners of the NCDC
APHIDS team
Photographs:
Engagements and re-engagements with stakeholders: The LISTEN model was applied through all the phases by engaging and re-engaging the end Users in the design, development, deployment and utilization of APHIDS. Various stakeholders' engagements were held with Heads of Departments, Division heads, Unit heads, other staff and Partnering organizations.